Video Help
The Video Control Bar appears at the bottom of the play window when the video is Paused and when the mouse cursor moves over the Running video.


Left Controls
▶Play/Pause
∥
: Mute/Un-mute : Volume
Right Controls
Settings : View At YouTube : Full Screen
Click on the Gear Icon
to
turn Annotations Off/On
and
Change Video Quality
some browsers offer
Speed Control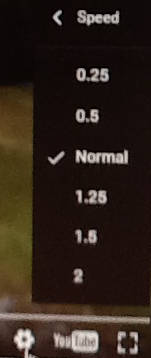 The options within Quality are browser specific
and limited by the quality of the uploaded video.
If the video playback repeatedly pauses to reload
the video buffer, try a lower quality setting.
Speed is a browser specific option.
Visit the YouTube Help Center for more information.
HTML by
Thomas R. Powell
Last updated on 01/23/2017.