Motorcycling Roads
We rode on lots of fun roads in eastern Austria. There were some mountain passes and a few hairpin curves. But mostly we rode along rivers, through valleys, and over hills on roads that had seemingly never-ending sweeping curves of varying tightness. We would go back in a heartbeat.
The figure below shows our actual GPS tracks in neon blue with highlighted sections in red. I have included short descriptions and helmet camera videos of portions of the red highlighted sections. Click on the thumbnails to go to a more detailed map of each road and a helmet camera video. Many of the descriptions and recommendations come from alpineroads.com.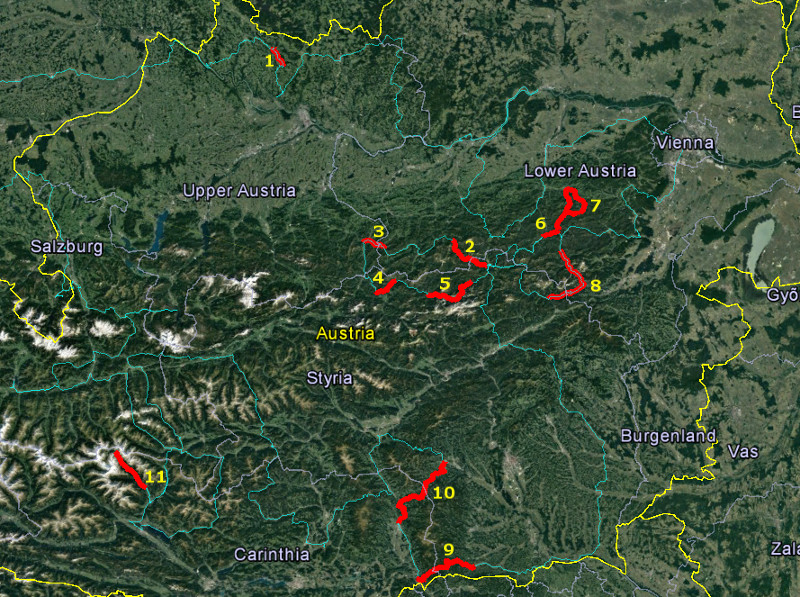 1.

B38/L581 Helfenberg to Waxenberg, 6.6 miles. This is a really nice ride through patchy woodland and rolling hills. It has a superb surface with medium to fast sweepers and is rated 4.0/5.0.
2.

B71 Mariazell to Maierhofen, 14 miles, is a mixture of fast straights and corners, sweeping twisties and a few tighter curves. Welcome change to the hairpins of the larger mountains. It is rated 4.0/5.0. In the video, Julie takes the lead.
3.

L99 Saimannslehen to Weyer is a little road over a ridge between two pretty green valleys. It is only 5 miles long but is rated as a Silver Seal road and is the best for miles. Julie leads in the video.
4.

L714 Grossreifling to Palfau. We weren't expecting anything from this little connector road that was just taking us from one good road to a great road. But heck, this L714 was a lot of fun as it wound along a little stream. It is in Styria Austria, west of Mariazell.
5.

B24 Wildalpen to Greith. This is a Silver Seal road. The eastern end over Halspass is extremely twisty with a superb surface. Otherwise, it generally has fast sweepers.
6.

B21 the Ochssattel Road. The B21 is a Bronze Seal road and rated 5.0/5.0 for corners (and hazards). It is a famous motorcycle road known as the Ochssattel and has a very popular motorcycle cafe, the Kalte Kuchl, at the eastern end. Julie takes the lead in the video followed by Stuart and Thelma, then me. There were about 40-50 motorcycles there in the last picture of the associated video.
7.

This route is along the L133 and L132 north of Kalte Kuchl and consists of big sweepers. This is one of the best roads in the area and runs along a small river. It is in a narrow wooded valley and is a sinuous, rather than twisty road.
8.

The B27 is a great main road south of Mariazell, Austria. It is mostly medium twisties but can be very smooth in sections so take it easy in the rain. Watch out for corners marked with skull-and-cross bones. In the video we take a couple of narrow roads L135/L103 over a ridge. Julie is in front and our friends Stuart and Thelma are following her.
9.

A Bronze Seal and a definite jewel of a road. The west side is steeper and tightish through trees. The east is less steep but longer and faster.
10.

A major through-route but with wide long hairpins.
11.

Motorcycle ride in the beautiful Malta Valley in Austria during the one day of the year that motorcycles get blessed on the Kölnbrein Dam.
HTML by
Thomas R. Powell
Last updated on 01/21/2017.