A Motorcycle Tour of the Canadian Rockies
The Canadian Rockies are located primarily in Alberta, Canada and the eastern edge of the neighboring province of British Columbia. Four Canadian National Parks and three Provincial Parks make up the Canadian Rocky Mountain Parks UNESCO World Heritage Site. To quote the UNESCO declaration, "With rugged mountain peaks, icefields and glaciers, alpine meadows, lakes, waterfalls, extensive karst cave systems and deeply incised canyons, the Canadian Rocky Mountain Parks possess exceptional natural beauty." To put this declaration in perspective, some other UNESCO sites selected for exceptional natural beauty include the Jungfrau in the Swiss Alps, the Dolomites in Italy, and the U.S. National Parks of Yellowstone, Yosemite and the Grand Canyon.
Julie and I rode through the best parts of British Columbia and the Canadian Rocky Mountains Parks on the MCi Canadian Rockies Tour. Joining us on this adventure in 2010 were two great couples from the United Kingdom; Stuart and Thelma, and Graham and Janet. Stuart and Thelma chose a Honda Goldwing, and Graham and Janet opted for a Harley Davidson Electra Glide. In 2011 we were joined by five more great folks from the UK; Michel and Anne, Tony and Jacque, and Stefan. Both couples; Michel and Anne, and Tony and Jacque, were on yellow Honda Goldwings. Stefan chose a Harley Road King. Julie and I each rode our own BMW K1300S's.
On this motorcycle trip we traveled a 2468 mile loop in western Canada and Washington State. The orange lines in the maps below are my GPS tracks of our trip.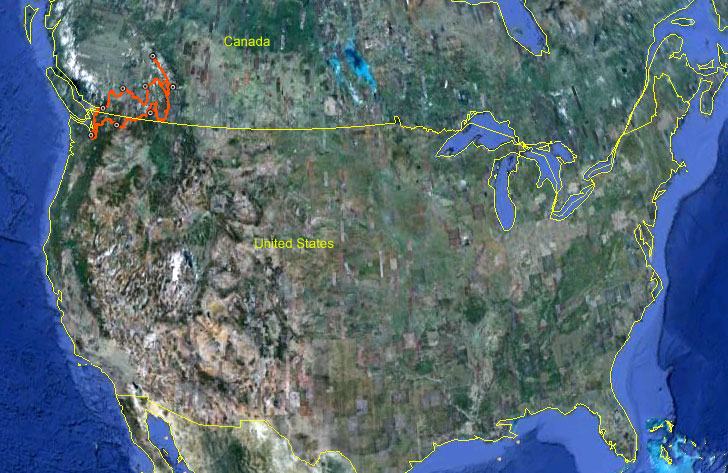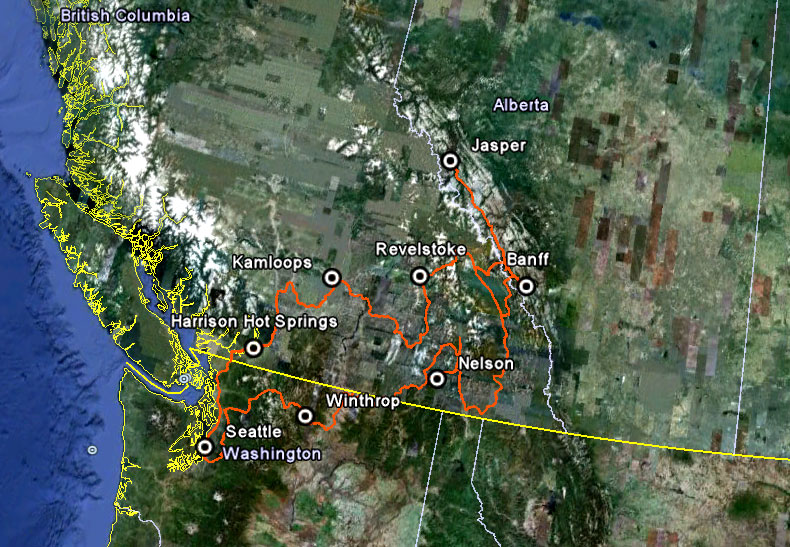 Our Canadian Rockies Tour started in Seattle, Washington and proceeded through parts of northwestern Washington, British Columbia, all four National Parks of the Canadian Rocky Mountains, and northern Washington. Click on the hyperlinks to travel along with us and see some of what we saw. [Many of the 2010 pictures and videos are courtesy of Stuart.]
Hope you enjoyed our trip! Join us next time!

Last updated on 01/06/2020.