The Black Forest
The Black Forest is a wooded mountain range in Baden-Wurttemberg in southwestern Germany. It has some great motorcycle roads of widely varying character and lots of quant little villages to entice an overnight stay.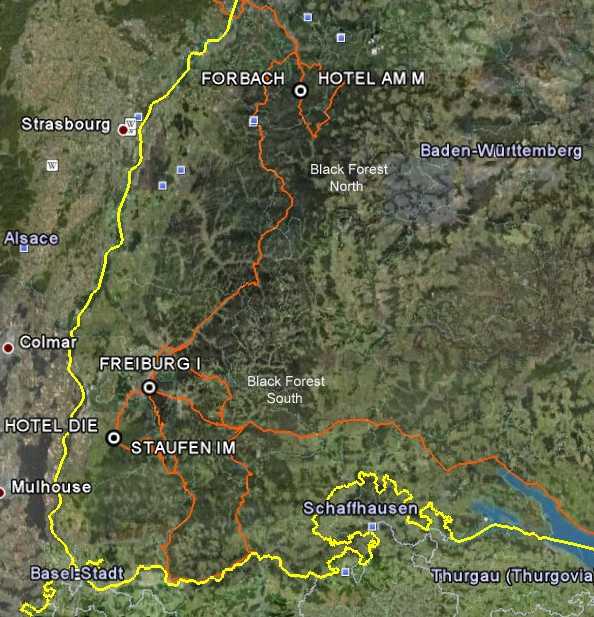 We spent two and one-half days riding through the Black Forest, making a couple of loops in the southern region and a loop in the northern region. The Black Forest High Street, B500, is an amazing road. It is wide, billiard-table smooth, and undulates and curves constantly, up and down, back and forth, along its entire length. Perhaps you can get an idea of the nature of this road from this video (wmv, 9.6MB). The only problem with the B500 is that the curves are such big sweepers and so smooth that you really need to go much faster than the speed limit to get the full enjoyment. That isn't the case with many of the smaller roads video ( wmv, 43.5MB), and as a result we enjoyed them much more than even the B500. There were some really tight, technical roads that required all of your attention, and they were so good we went back and rode them again. Great fun! Actually, we had so much fun that I forgot to check the batteries on my helmet camera, dead, sorry no videos. I know, that is like the giant fish that got away. Yep, it really was good, trust me.
We spent two nights in the small village of Staufen in the southern region of the Black Forest.

We chose Fosbach for our stay in the northern part of the Black Forest.
HTML by
Thomas R. Powell
Last updated on 11/05/2013.