Amalfi Coast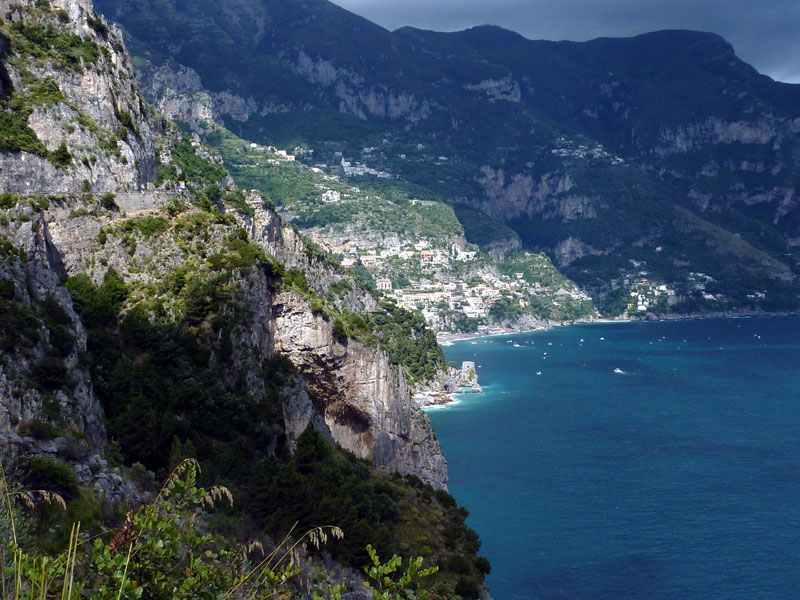 This is the Amalfi Coast looking toward the hillside village of Positano. The entire coastal drive is about 30 miles long and treats you to tiny colorful villages clinging to the cliffs as the road weaves and bends its way 100's of feet above the Tyrrhenian Sea.

Helmet camera video of riding along the Amalfi Coast from near Sorrento to where we stayed in Positano. The coastline is rugged and beautiful, and the water is blue and deep, so don't miss any of the numerous curves.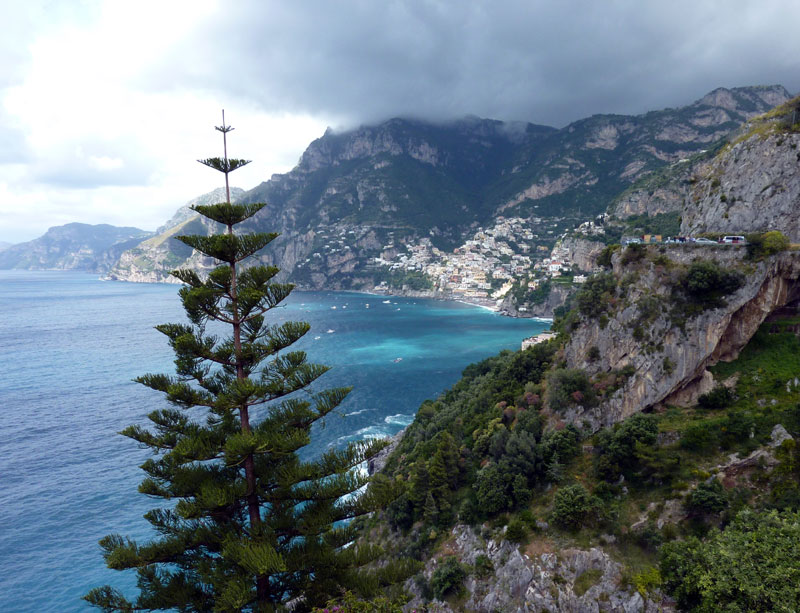 This view looks back at Positano, which is highlighted by the sunlight against the cliffs. We are standing on one of the decks of the elegant hotel, Il San Pietro Di Positano.

Part of the village of Positano as seen from the pebble beach below. It is quite a steep walk down to the beach and back up to our B&B. We took the bus.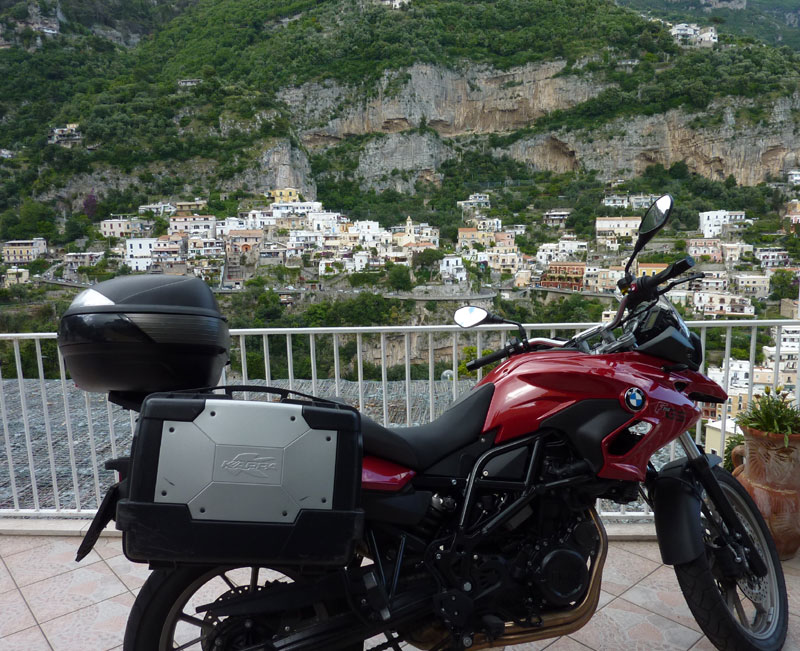 Julie's rented BMW F700GS parked on the patio of our B&B, with some residences visible far below.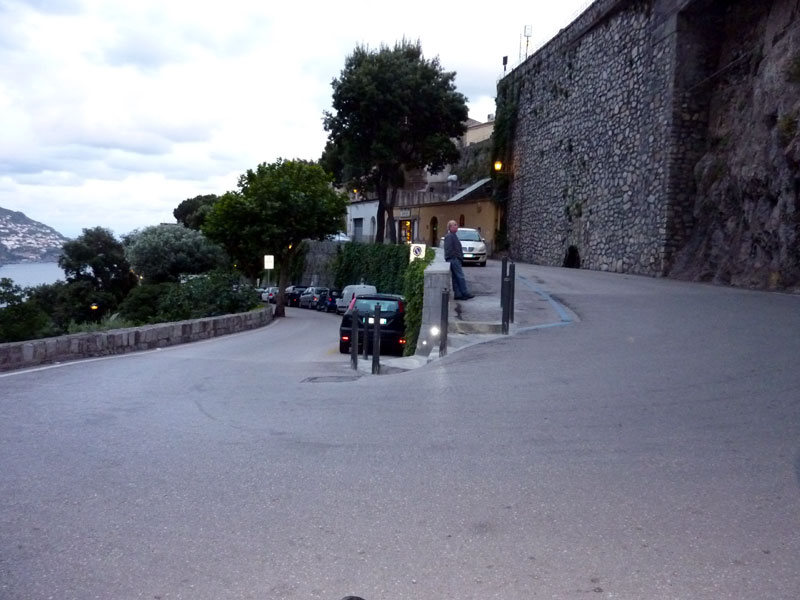 This is the main road down into Positano from the coastal road. Our B&B for the night was about 50 yards down the road on the left. If you watched the video above, this is the hairpin where the short bus had to stop and backup to negotiate the sharp bend.

Helmet camera video of riding along the Amalfi Coast from near Positano toward Amalfi. This is on the same road as the previous video above, but the road has become considerably narrower. There are some interesting moments on the ride (nothing very dangerous though).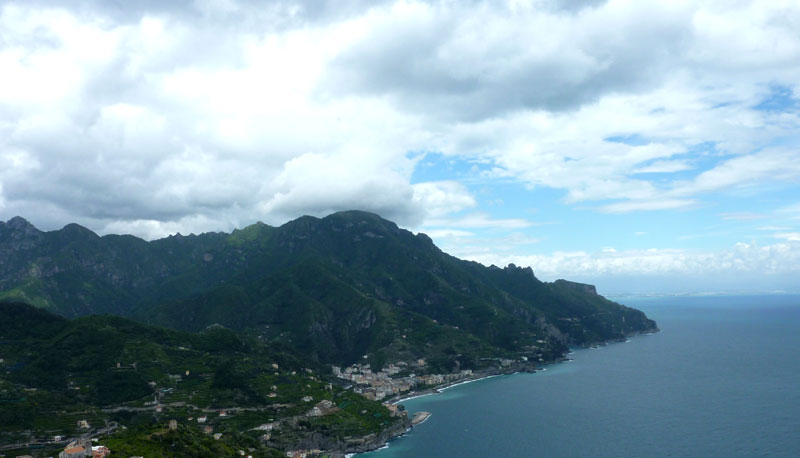 Ravello is a charming little village that sits on the very top of the cliffs overlooking the Amalfi Coast. This is the view from our room in Ravello. The ride up the hillside was pretty interesting.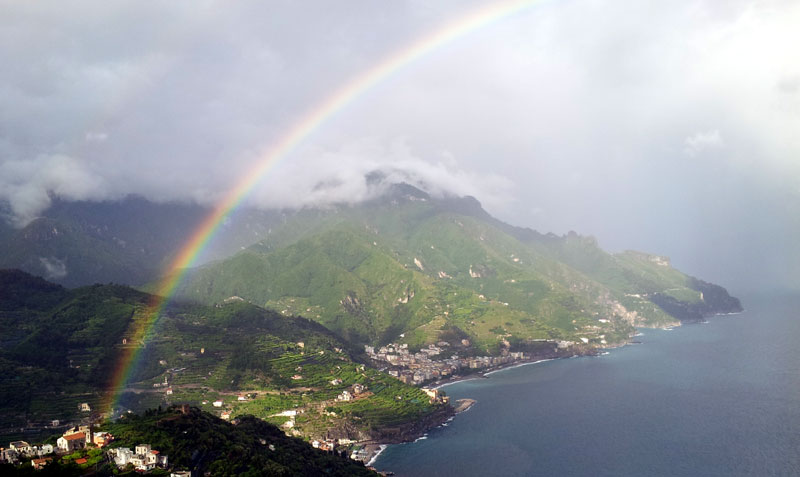 Yep, it rained and rained later that afternoon.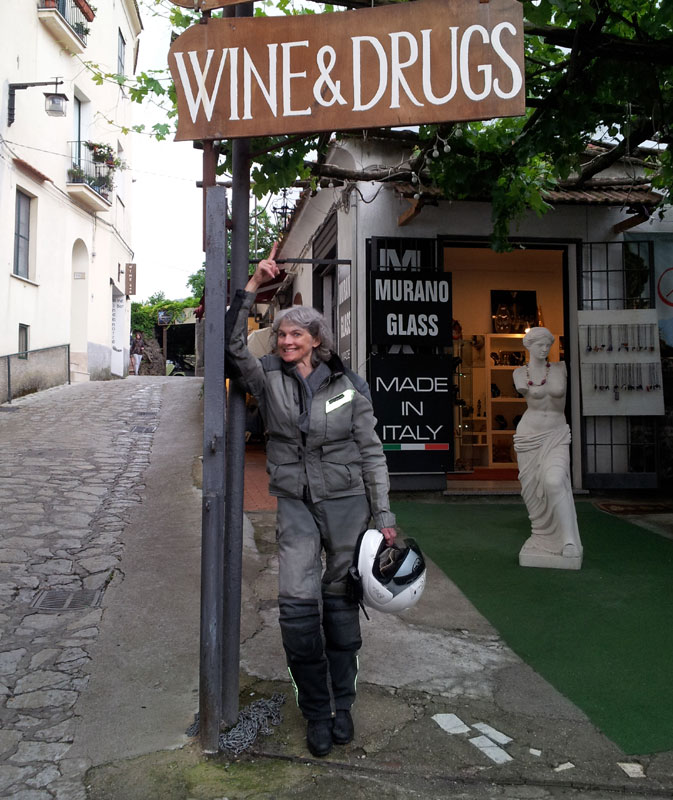 This was before it started raining very hard in Ravello. Julie doesn't partake of either of these, but we thought the sign was fun. It is probably the result of a clever shop owner getting curious tourists to come inside and take a look. We did.
HTML by
Thomas R. Powell
Last updated on 01/06/2020.