Tuscany and Umbria Countryside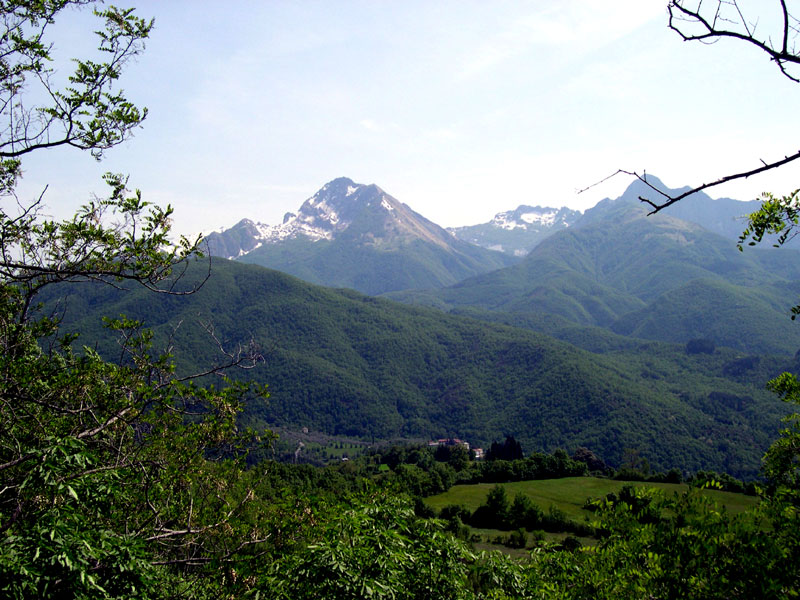 Monte Pisanino is the highest peak (6,385 ft) in the Apuan Alps, in Tuscany. It is also the highest mountain entirely belonging to the Tuscany region.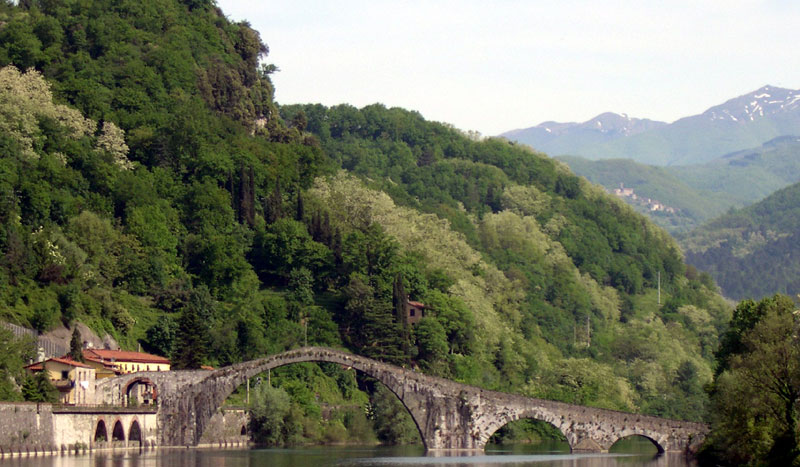 Ponte della Maddalena is a medieval Roman bridge crossing the Serchio River near the town of Borgo a Mozzano. One of numerous medieval bridges known as "Bridge of the Devil".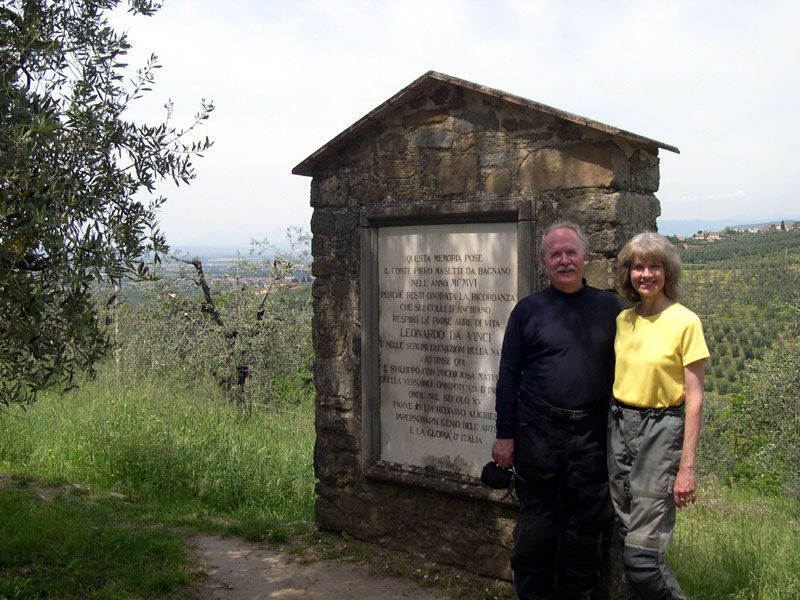 That would be us standing next to a plaque near the house where Leonardo da Vinci was born. This is about 2 miles from the town of Vinci, hence the name Leonardo da Vinci. There is also a Museum of Leonardo da Vinci in the town with many great drawings and models of his inventions. Pretty fascinating.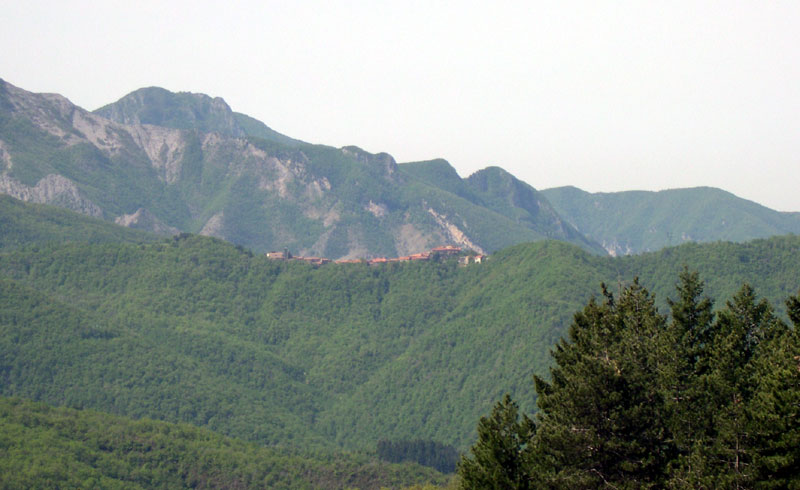 Look closely and you will see the ridge village of Ugliancaldo. This is in the northern region of Tuscany, the Province of Massa-Carrara.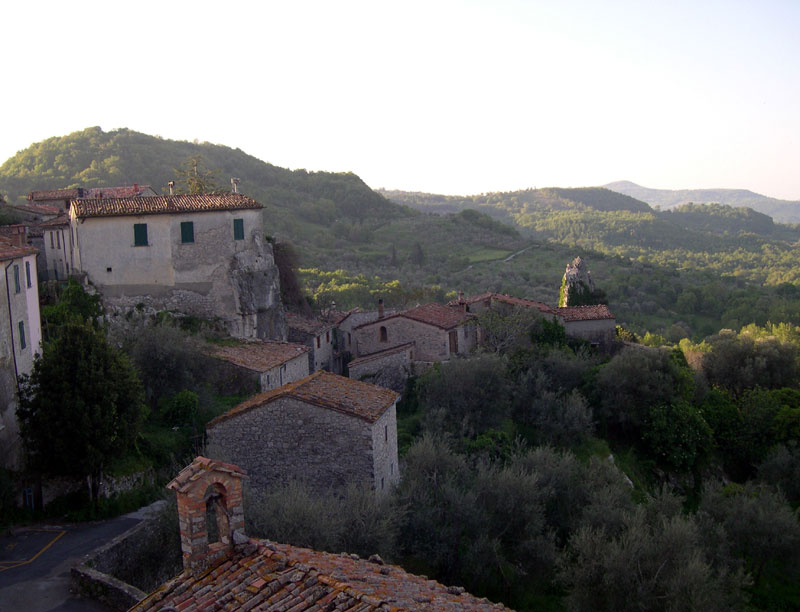 Morning sun hitting the rolling hills outside our window at La Pietra in Roccalbegna in southern Tuscany. A very enjoyable stay.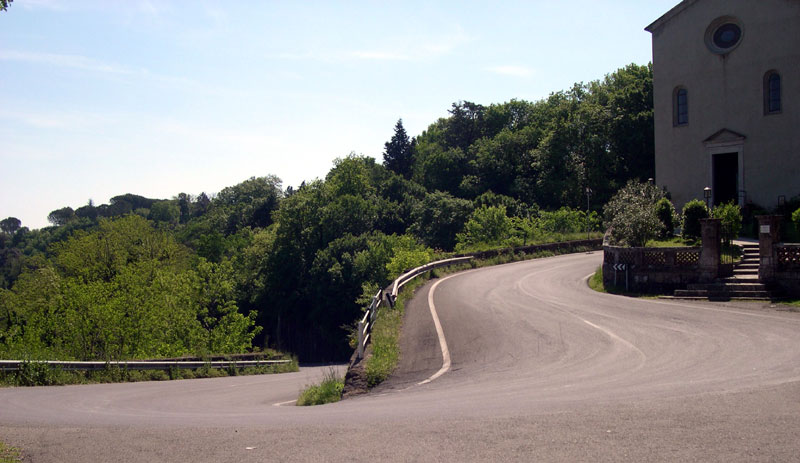 One of many hairpin corners in southern Tuscany. The village of Pitigliano is on a hill just to the left of this view.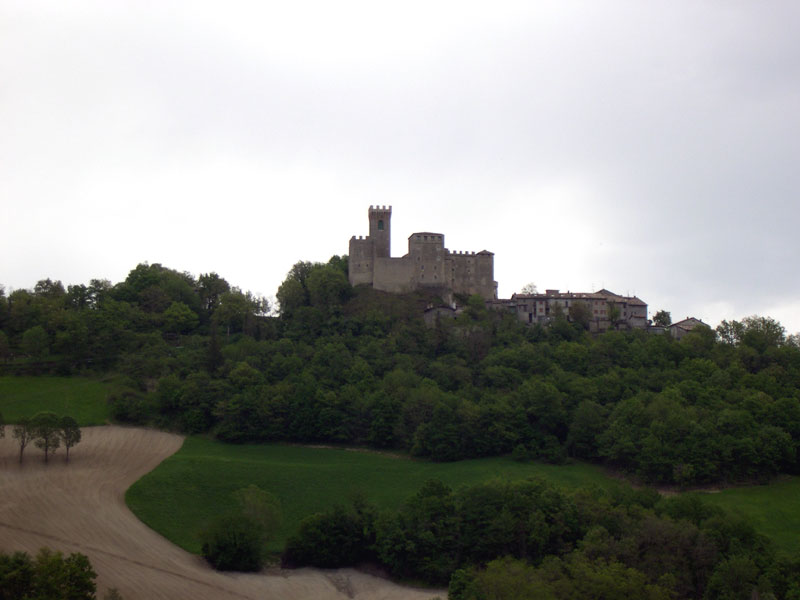 This castle is one of several that we saw. This is just north of Florence.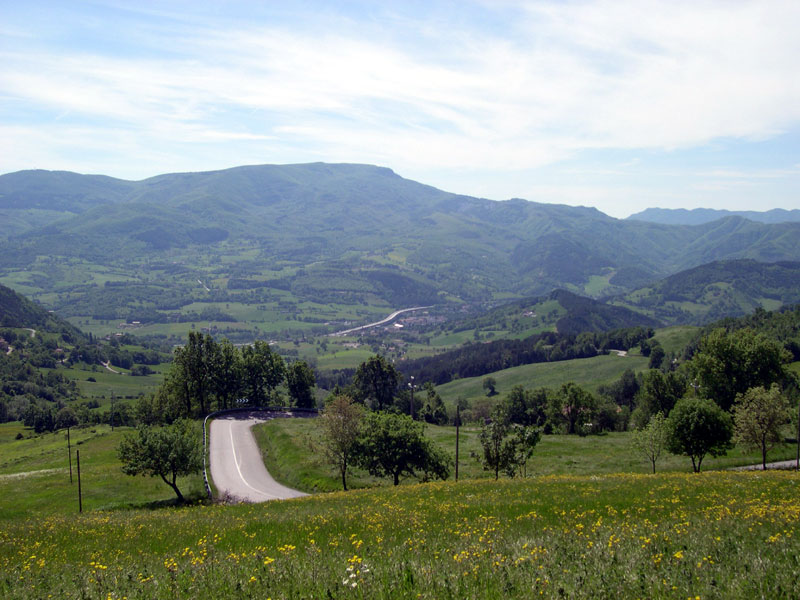 Green hills and undulating roads abound in Tuscany. This is near Poppi.


This is also near Poppi.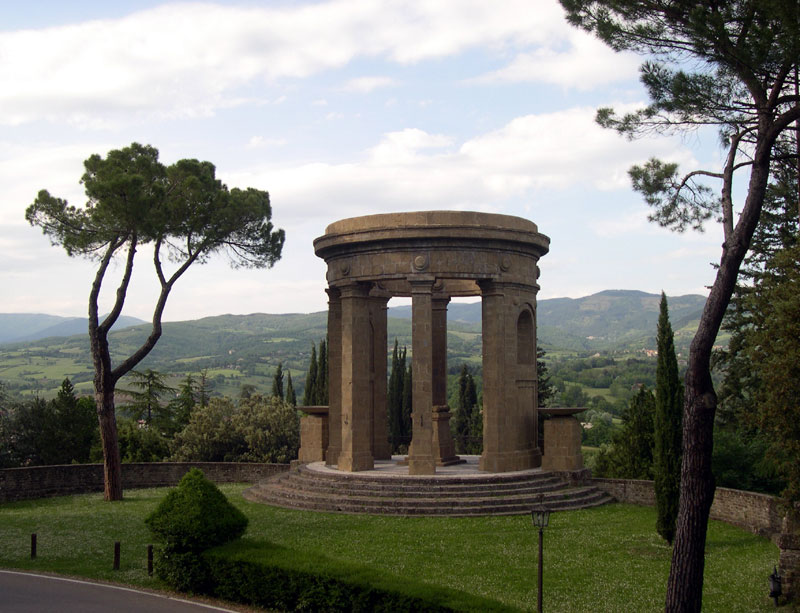 Behind the Castle of Poppi and still on the hilltop is this memorial with views out to more green rolling hills.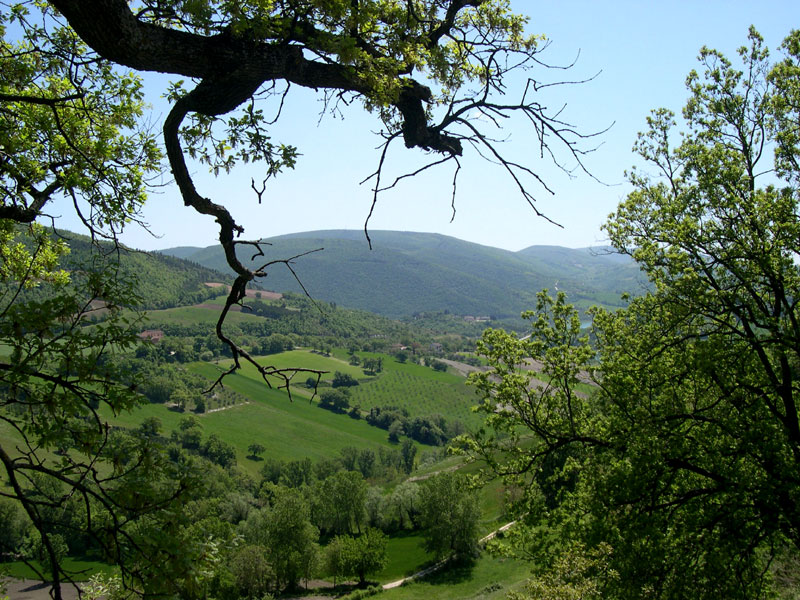 The countryside of Umbria is also full of beautiful green hills as you can see here south of the city of Perugia.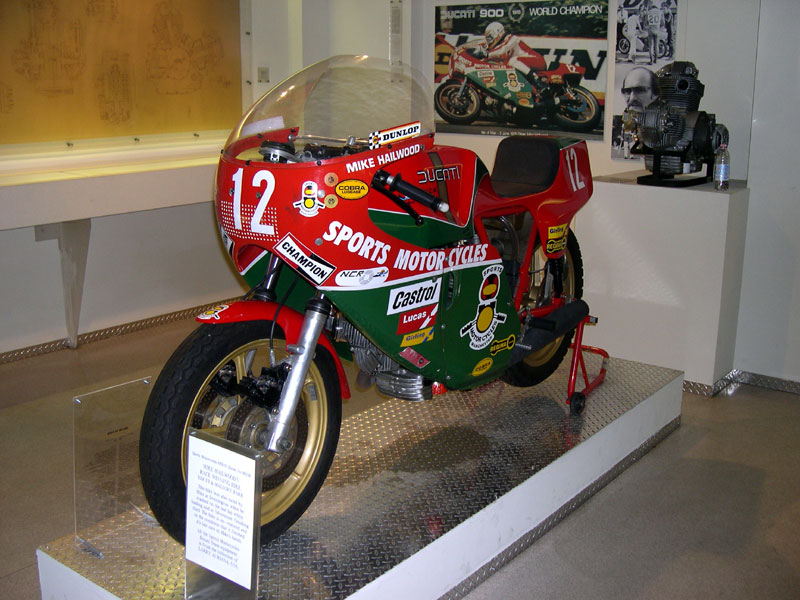 This is in the museum of the Ducati motorcycle factory in Bologna. I know, it is not in Tuscany, but it is right next door in Emilia-Romagna. We had a full tour of the museum and the factory. Although we didn't get to take any samples home, it was great. Those of us on Ducati's (rented, for some of us) got free parking.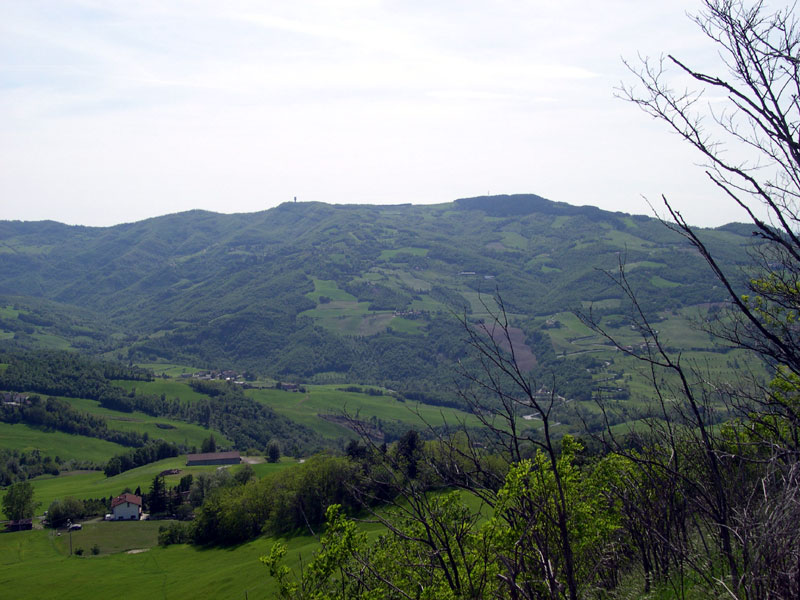 Some of the hills south of the Ducati factory.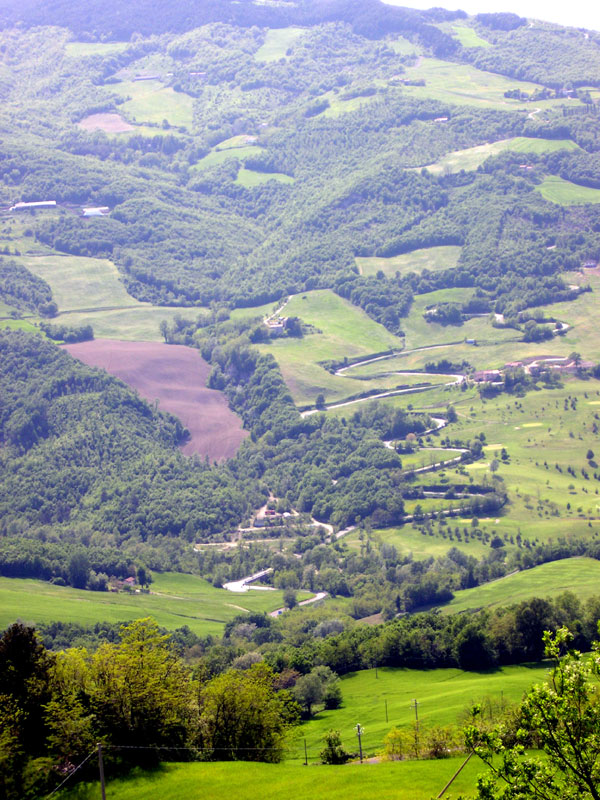 Here is a road just south of the Ducati factory. Good place for the Ducati factory riders to test the new machines.
HTML by
Thomas R. Powell
Last updated on 01/06/2020.