A Motorcycle Tour of Italy, Slovenia and Croatia
We went motorcycling in Europe again in 2014. This time, Julie and I, along with our friend Larry, toured some more of Italy, and also Slovenia and Croatia. We traveled about 1900 miles, including a ferry across the Adriatic Sea. The orange lines in the map below are the routes of our trip. It was another great tour.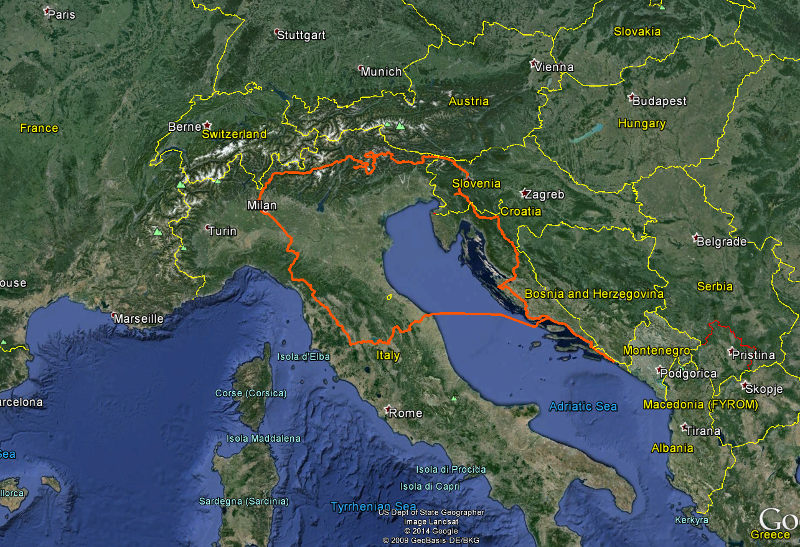 Julie and I rented a pair of BMW F700GS's and Larry rented a Suzuki V-Strom from Central Italy Motorcycle Tours (CIMT) in Milan, Italy. We have rented motorcycles from CIMT three times now and the service has always been excellent.
We first headed north from Milan directly into the lakes and mountains of northern Italy. Prominent in this region are the magnificent Dolomites, a mountain range in the northern Italian Alps that have been designated a UNESCO World Heritage Center. We spent 2 days exploring as many of the beautiful mountain passes as we could manage. From northern Italy we headed east and sampled some of the key scenic areas of western Slovenia, including Lake Bled. South of Slovenia, we explored the Plitvice Lakes National Park and the coastal cities of Zadar, Dubrovnik and Split in Croatia. We took a ferry across the Adriatic Sea to Italy and traveled through Tuscany on our way back to our starting point near Milan.

Hope you enjoyed our trip!
HTML by
Thomas R. Powell
Last updated on 12/28/2019.