A Motorcycle Tour of Northern California
and the Laguna Seca MotoGP
Northern California has a tremendous variety of beautiful scenery and it also happens to have the premier race track of North America, a perfect combination for motorcycle enthusiasts. The scenery ranges from the rugged Pacific Ocean coastline, to the majestic California Redwood trees, to the southern edge of the volcanic Cascade Mountains, to the granite Sierra Nevada Mountains. The race track is Laguna Seca Raceway, nestled in the Pacific Coast hills around Monterey Bay, and is home to the most famous curve in racing, the Corkscrew.
Julie and I combined the beautiful northern California scenery and roads with attending Round 10 of the 2011 international MotoGP motorcycle race at Laguna Seca raceway for the MCi Laguna Seca MotoGP Tour. Once again we were joined by two great couples from the UK; Jon & Cathy, and Alan & Wendy. We first met these four on the 2009 MCi California Dreamin' Tour, and here they are riding with us again! Fun! This time, Jon & Cathy picked a Harley Davidson Electra Glide, while Alan & Wendy chose a Honda Goldwing. Hmmm, I think that is what they each had last time. Julie and I each rode our own BMW K1300S's.
On this motorcycle trip we traveled a 1,567 mile loop in northern California. The orange lines in the maps below are my GPS tracks of our trip.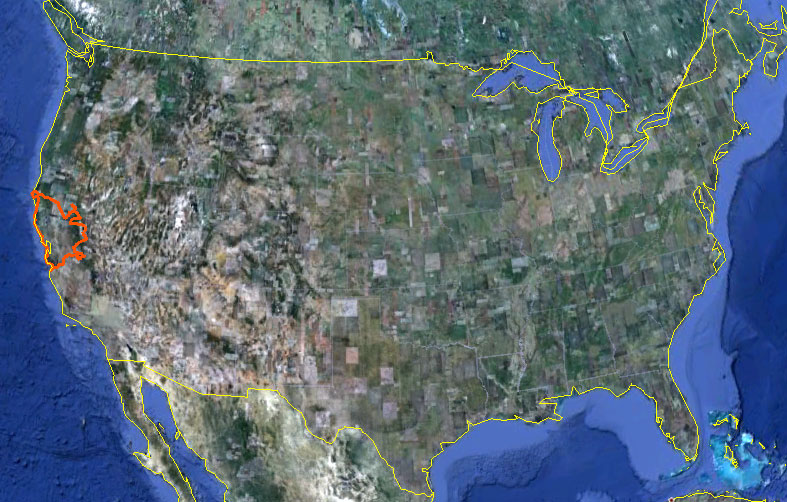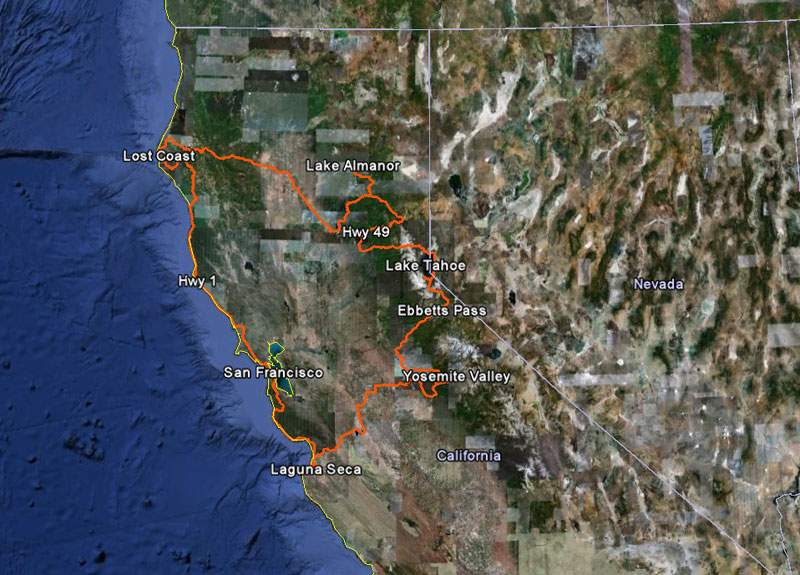 Our motorcycle tour of northern California started in the romantic "City by the Bay," San Francisco, California. There are a lot of sights to see and things to do in San Francisco, but I will leave it to you to explore them. Our journey first took us north on the Pacific Coast Highway (PCH), also known as Hwy 1. Along the way we explored both types of California Redwoods; the Coast Redwoods which are the tallest trees in the world, and the Giant Sequoias which are the largest living things in the world. We spent a night at Lake Almanor in the Almanor Basin, which is the dividing line between the volcanic Cascades Mountains to the north (e.g., Mount Lassen, Mount Shasta, Mount Saint Helens) and the granite Sierra Nevada Mountains to the south (e.g., Yosemite National Park, Mount Whitney). We also stopped and enjoyed the beauty of Lake Tahoe and Yosemite National Park in the Sierra Nevada Mountains. Of course, to get to all of these places we had to ride some of the best northern California motorcycle roads. In addition to PCH noted above, that included Hwy 36, Hwy 49, and the Oroville-Quincy Hwy. And of course, all this fun touring northern California was a precursor to attending Round 10 of the 2011 international MotoGP motorcycle races at Laguna Seca raceway in Monterey, California. Click on the hyperlinks to travel along with us and see some of what we saw.


Hope you enjoyed our trip! Join us next time!
HTML by
Thomas R. Powell & Associates
Last updated on 11/05/2013.