A Motorcycle Tour of Portugal and Southern Spain
Julie and I, along with our friend Larry, did a motorcycle tour of Portugal and southern Spain for two weeks in 2012. We traveled about 2500 miles. The orange lines in the map below are the routes of our trip. It was a great tour.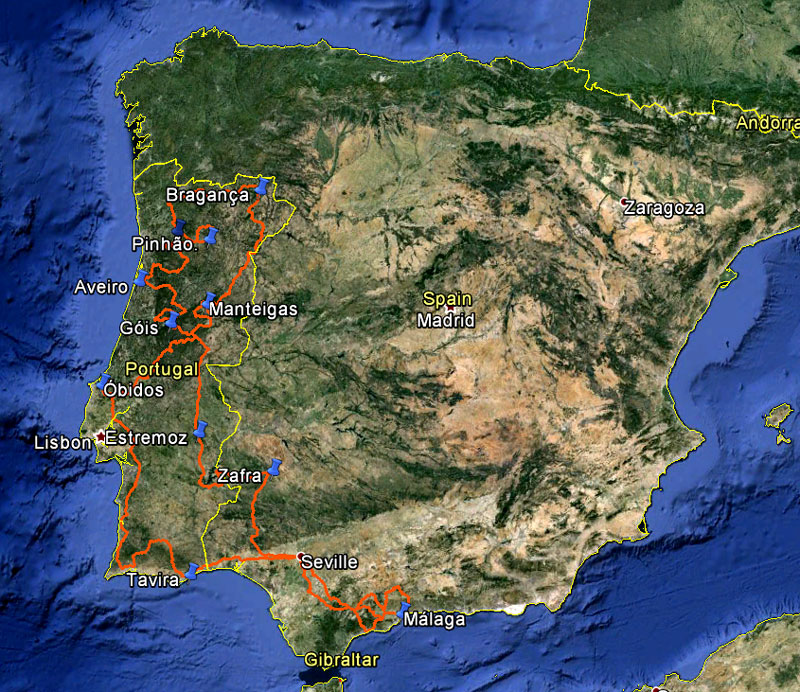 Julie and I rented a pair of BMW F650GS's and Larry rented a F800GS from Hispania Tours in Malaga, Spain.
We spent most of our time going up and down Portugal, but we started and ended our tour with some great riding in southern Spain. Portugal and this small part of Spain have quite a variety of countryside. There are mountainous national parks (e.g., Parque Natural Da Serra Da Estrela and Parque Natural Serra Da Montisinho), picturesque river valleys (the Douro is the most famous), sandy ocean beaches and rugged coastline. There are also many charming villages and towns. Of course, since this was a motorcycle tour, we came to try the roads and we were definitely impressed by the great curvy roads in excellent condition.

Hope you enjoyed our trip!
Last updated on 01/06/2020.