Our mini pre-tour went south through France beginning at the Dover/Calais

ferry crossing of the English Channel. The highlights of the first day of our trip through France included a wonderful lunch at an outdoor café

in Rouen near where Joan of Arc was burned at the stake, and the Normandy Beaches

with the solemn American Cemetery. Highlights the following days through France included another fun outdoor café, this time in Le Mans,

the World War II ruins of Oradour sur-Glane martyr village,
wonderful lodging in Manoir du Grand Vignoble

at Bergerac, riding through the hilled vineyards of wine country Bordeaux, and the playground of the rich in the seaside town of Biarritz.

I got separated from our group (which included Julie) in Bilbao, Spain, but about an hour and 100 miles later, I linked up with them in Burgos. All in all, the mini pre-tour spanned 4 days and 800 miles through France to Burgos, Spain, with wild and wonderful riding all along the way, fun.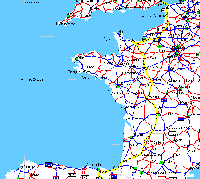 Click to Expand.