A Motorcycle Tour of Slovenia, Hungary, Slovakia, Poland, Czech Republic, and Austria
We again did a European trip in 2019 with our friends from England, Stuart and Thelma, but we did it a bit differently than our usual self-planned and self-guided tour. This time we joined a guided tour, organized and led by Adriatic Moto Tours (AMT) of Slovenia. AMT is headquartered in Ljubljana, Slovenia, which is where we started our tour. We traveled over 1,700 miles on a variety of roads through six countries in Central/Eastern Europe; Slovenia, Hungary, Slovakia, Poland, Czech Republic, and Austria. The red lines in the map below are the routes of our trip as we traveled in a mostly counterclockwise direction from Ljubljana. The cities highlighted in white were our overnight stops.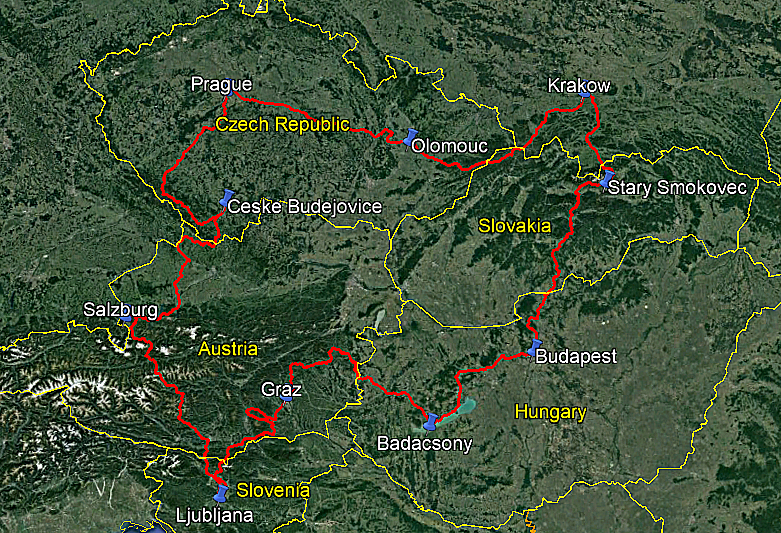 Our tour group consisted of 10 fun folks from Australia, England, and the states of California, Texas, and Washington in the United States. Our very experienced AMT tour guides were Rok and Premoz.
We stayed overnight in many great cities; I will highlight Ljubljana, Slovenia; Graz, Austria; Budapest, Hungary; Krakow, Poland; and Prague, Czech Republic. Between the overnight stops, there were special sights that we enjoyed each day. I also managed to take some helmet camera videos of a few of our daily motorcycle rides, showing not only the fun twisties but also overviews of the countryside.
Click on the highlighted hyperlinks to see some of what we experienced.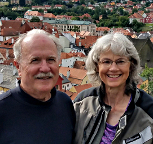 Hope you enjoyed our trip!
Last updated on 12/26/2019.